The supplement market is full of products that are not safe or have unverified claims about their benefits.
With so many weight loss supplements available you need to do your research first to make sure you are getting something that will work, and more importantly that it is safe.
In this article we'll give you the low down on germander– a Mediterranean plant – and why it's definitely a weight loss supplement you should avoid.
Here's what we'll cover:
What is germander
What does it do?
What are the side effects?
---
What is germander?
Germander, also known as teucrium, refers to a large group of herbs and shrubs found mostly in Mediterranean climates. It has been used for centuries in traditional herbal medicine – mostly as a herbal tea – as a way of treating inflammatory and digestive disorders such as arthritis, gout and stomach upset.
This perennial plant has dark green foliage with aromatic, spicy scented leaves. It has pinky-purple flowers that blossom in summer. It contains a number of saponins, flavonoids and polyphenols which are all bioactive compounds that have an affect on the body. It also contains dipteroids – these have been shown to cause liver toxicity in animal studies [1].
Currently there is not enough evidence to pinpoint how it works or even if it is effective. Nevertheless, since the late 1980s this supplement has also been sold as a dietary aid, promising to help you lose weight.
In one review [2] it is claimed that despite patient perceptions that herbal remedies are free of adverse effects, some supplements are associated with severe toxicity. Germander falls into this category.
According to a report published in the American Journal of Health-system Pharmacy [3], pharmacists are not adequately prepared educationally to meet patients' requests for information on herbal products such as germander. 
---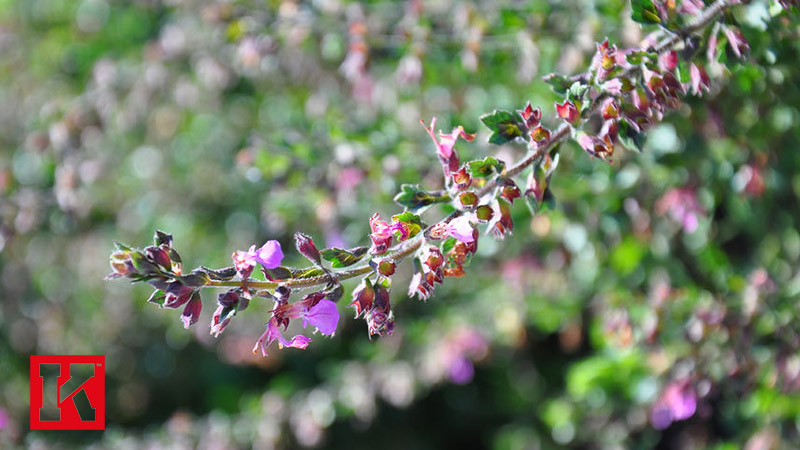 ---
Key Point: Although it has been used for centuries, germander may be associated with liver toxicity
---
What Are The Side Effects?
This herb is particularly unsafe as evidenced by a number of case studies. Many of these side effects relate to hepatitis – inflammation of the liver. In the case of germander, hepatitis is caused by liver toxicity.
Although the extract of the plant has been used since ancient times as a herbal remedy, it wasn't considered unsafe until 26 cases of acute hepatitis from either capsules or germander tea were reported in the 1990s.
One case study reported a 28 year old female bodybuilder who was taking the supplement to improve her health. She was admitted to hospital for hepatitis as well as jaundice after 12 weeks of germander supplementation for weight loss [4]. Similar side effects were seen in a 55-year old woman who was taking the supplement to treat high cholesterol [5].
According to researchers, full recovery usually occurs within 6 weeks to 6 months [5]. However in some cases, toxicity can develop into much more serious liver cirrhosis – a type of long-term disease that stops the liver functioning properly [6]. There have even been reported cases of death linked to ingestion of the herb [7].
Currently, this supplement falls into the short list of herbs ranked in the top five categories having potentially life-threatening side-effects [8]. For this reason it is a supplement that should be avoided at all costs.
---
---
Key Point: Germander is an unsafe supplement that can cause severe side effects and even death.
---
Summary – Is Germander Safe?
Germander is a perennial shrub that is found in Mediterranean climates. It has been used in traditional medicine for centuries as a means of treating digestive and inflammatory disorders such as arthritis, gout and stomach upset.
More recently it has been used as a weight loss aid, but has been found to have serious side effects that can cause liver damage.
A number of case studies has shown that taking this supplement can lead to hepatitis and other liver-related side effects such as jaundice. In isolated cases it has also been found to cause liver cirrhosis and even death.
This supplement is one to be avoided and is potentially unsafe. If you are looking for a safe and effective dietary aid you need to consider an alternative that has been tested in rigorous studies.
---
Try Instant Knockout
Risk Free
for
90 days
Let us take the risk. If you do not see any results then we will gladly refund your money.
Just order 90 days (3 months worth) or more of Instant Knockout and you will be covered by our cast iron guarantee. So whether you order a 3 month supply or a 12 month supply you will be covered.
Order right now and start cutting fat like the professionals.
---
References
Fau, D et al. Diterpenoids from Germander, an herbal medicine, induce apoptosis in isolated rat hepatocytes. Gastroenterology. 1997; 113(4): 1334-46
Radha Krishna, Y et al. Acute liver failure caused by 'fat burners' and dietary supplements: A case report and literature review. Can J Gastroenterol. 2011; 25(3): 157–160
Klepser, TB et al. Unsafe and potentially safe herbal therapies. Am J Health Syst Pharm. 1999; 15;56(2): 125-38
Pauwels, A et al. Acute hepatitis caused by wild germander. Hepatotoxicity of herbal remedies. Two cases. Gastroenterol Clin Biol 1992; 16: 92-5
Laliberte, L et al. Hepatitis after the use of germander, a herbal remedy. Can Med Assoc J. 1996; 154(11)
Dao, T et al. Chronic cirrhogenic hepatitis induced by germander. Gastroenterol Clin Biol. 1993; 17(8-9): 609-10
Mostefa-Kara, N et al. Fatal hepatitis after herbal tea. Lancet. 1992; 340(8820): 674
Brown, AC. Potentially life-threatening herbs: Reported cases in MEDLINE of liver toxicity, renal toxicity, cardiotoxicity, cancer, and death. Poster Presentation #489.29 Experimental Biology New Orleans, April 20-24, 2002